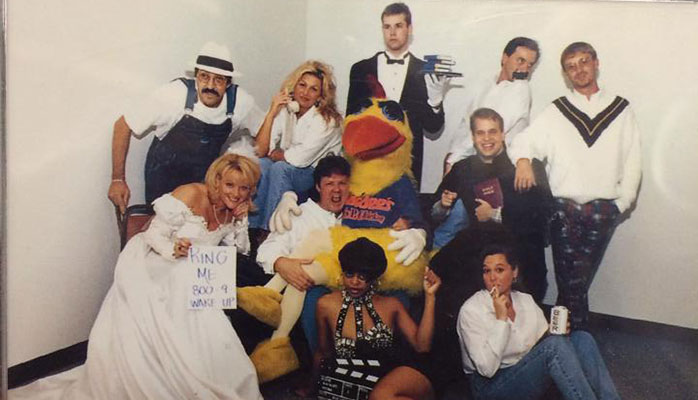 When I was 22, I learned a lesson that has stayed with me my entire life. At the time it seemed like a small success, but in retrospect the mindset that came out of the situation is still with me today. #IfIWere22 again, I would make sure I realized this lesson then, rather than a few years later.
I was working full-time in radio, for my fourth station, an Adult Contemporary station in St. Louis, USA, called Alice@104.1. I'd joined the team at Alice when the morning show I worked for, the Steve and DC Morning Show (photo above), had moved over to our sister country station, KIX 106.5 and Q104 had been transitioned to the Alice format.
For my previous three stations I had enjoyed announcing news and weather, and playing bit roles on the morning show, such as Prince William or the diplomat who was helping a soldier bring his Russian bride home to his shocked parents (can we say Phone Sham?).
But at Alice, I was stuck in a production studio.
I didn't mind creating commercials and doing voice work. I had a really strong British accent back then, and clients seemed to like what that brought to their commercials. I'd already proved the general manager from a few stations ago wrong, as he'd claimed if I wanted to make it in radio I needed to lose the accent. But I dreamed of more. I dreamed of the "glamourous" life of a radio disc jockey. And the radio station was doing tryouts at night and I wanted my shot at being on-air, with my own shift.
So, at 22, I walked up to the program director, who was a hipster before hipsters were the thing to be, and asked for a tryout. He didn't bat an eyelid, as he solidly told me I should just focus on production and I didn't have what it took for on-air talent.
So, I took it in stride, realizing once again that radio program directors have to be certified idiots prior to being hired, and the next day asked again. And again. And again.
Finally, he gave in. I got assigned a day to take a couple hours after midnight to show him what I had. To try out for the big show.
It was fun. I enjoyed it. I changed my air name. I had callers calling. I had deep and profound things to say about the artists and their songs. Or something like that. But the next day, the PD walked up to me, and rather dismissively said, "You're not bad at this. I listened last night and it was pretty good." High hipster praise indeed.
The next day, I had the evening shift on Alice@104.1 in, what at the time, was a top 20 radio market.
Key lesson. I knew me better than he did. I knew what I thought I could do. All I wanted was the chance to try. And I wouldn't let my boss define who I was.
Those days are long gone, and since then I've moved out of the "glamourous," low-paying, weekend-working life of a radio DJ and crossed over to the dark side, the world of PR and marketing. But that realization, as a 22-year-old, that I could chart my own course, and push to create the opportunities I wanted, has stuck with me throughout my career.