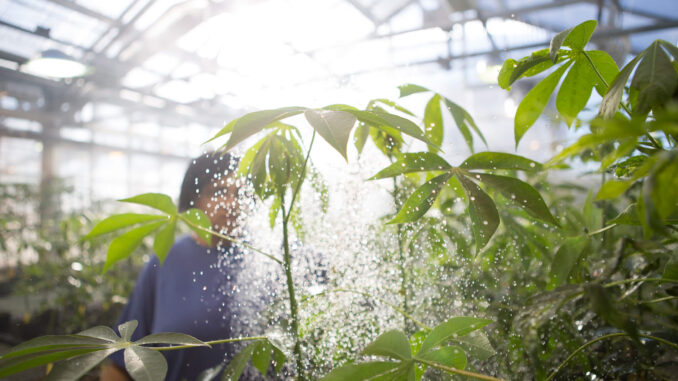 The global agriculture industry is facing arguably its greatest challenge since farming was first recorded in history more than 12,000 years ago. As the world population is rapidly ever-growing, and with 10% of people remain undernourished, there is a severe urgency for our farmers to increase production of food, fuel and fiber.
I recall having conversations on the global challenges facing the industry at the former Monsanto back in 2008, and since then, the expectations from our farmers have not lessened. Expanding urbanization is creating greater land pressures, and societal demands are driving the industry to consider how it can best maximize yield efficiency while simultaneously using fewer resources to increase efficiency and profitability.
Over the years, I've had the privilege of working with many innovative leaders in Missouri over the years at Monsanto, in 39 North, at BioSTL, in the Animal Health Corridor and at numerous other institutions, organizations and companies across the state. Missouri has been a key part of such conversations, but it will take global collaborations and partnerships to address these serious issues.
Fortunately, the international agricultural technology sector, known as agtech or agritech, is providing the bridge between the capabilities of producers and the needs of consumers. Following on from the first three agricultural revolutions of planting and sustaining, mechanization, and biotech, agtech is the driving force behind the Fourth Agricultural Revolution.
And there are five key challenges agtech must solve.
The world needs more food
Approximately 925 million people around the world are currently suffering from hunger. According to estimates compiled by the United Nations' Food and Agriculture Organization (FAO), by 2050 we will need to produce 60 percent more food to feed a world population of 9.3 billion. To meet the demands in feeding our people today and tomorrow, we will require a significant overhaul of agriculture models. New technologies and processes that can improve yield efficiency from a more diversified range of products can guarantee continuous supply of fresh food. Addressing the issues of food deserts is part of this challenge, which will require the adoption of indoor or vertical agriculture, using the latest efficiencies in lighting, inputs and environmental controls. Besides, the spread of agricultural best practices to developing nations is an absolute must to move people from subsistence farming to producing a surplus that can feed those around them.
Demand for energy is increasing
The global biofuels market is expected to be worth more than $300 billion by 2030 as consumers increasingly look to more sustainable forms of fuel. While the global production of transport biofuels dropped last year due to the impact of the COVID-19 pandemic, production of ethanol, biodiesel, and hydrotreated vegetable oil (HVO) are expected to make a quick recovery. New technologies will have a critical role in supporting this anticipated increase in demand and the balance between food and fuel must be maintained.
We have to ensure there is an agriculture industry left for future generations
The consumption of agricultural produce has been the cornerstone of human life since the beginning of time. Farming has been a major employer and the backbone of communities living around the world for centuries. Advanced technologies, increased automation, and greater mechanization are helping to support increased consumer demand. However, in the drive towards greater adoption of technology, it is important to retain focus on the important socio-economic benefits of farming to families and communities.
In 2019, 22.2 million full- and part-time jobs were related to the agricultural and food sectors, accounting for 10.9 percent of total U.S. employment. Moving with the times while sustaining valuable employment will be a critical balance in the future. Our family farms have been focused on this for generations, and we must do what we can to support their legacy.
Supply chain challenges
The COVID-19 pandemic brought into sharp focus the challenges faced by the food supply chain and the importance of domestic and local production. Global food prices have increased by 38 percent since January 2020, according to the World Bank. More countries are facing acute food insecurity, hence the greater use of digital technologies such as artificial intelligence (AI) can help streamline the supply chain, retain value for producers, and feed demand from consumers.
We have to improve our stewardship of the planet
Growing global environmental, social and governance (ESG) requirements mean the agricultural industry must continue to intensify its focus on sustainable processes and procedures to minimize environmental impacts. Reducing excess use of inputs, increasing vertical farming, and increasing the production of plants immune to diseases will support such ambitions. As farmers continue to focus on building the industry for the next generation, we must support them in their efforts and ensure they have the tools they need to advance, while still protecting the future.
Partnerships are key to addressing challenges
These global challenges are bigger than any one company, organization or country could solve alone. It's important for the leaders in the global agtech ecosystem to work together to make outcomes even more impactful for the benefit of the world.
As the global leader in agtech, Missouri is the place for industry players to come together to tackle these challenges head-on. Missouri is home to around 100,000 farms and its agtech industry is responsible for developing innovative technologies and research in plant science and animal health, transforming agriculture. Missouri also has the largest concentration of plant science PhDs in the world and is home to a cluster of several world-leading companies that generate almost 60 percent of global animal health industry revenue.
And we want you here also. Come visit and collaborate. Come invest and create jobs. Come stay and grow with us.
It's no surprise that more agtech and agritech companies are choosing to locate here. Want to know who they are, and how you can do the same? Read why Missouri is the right move for your agtech business here.
Together, we can meet the global ag challenges and ensure that our future is one of growth, and a lack of hunger worldwide.