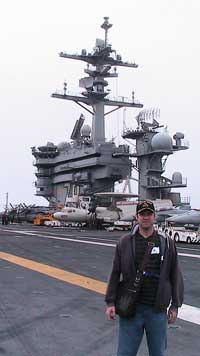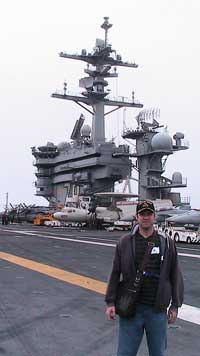 On Nov. 30, 2010, the USS Carl Vinson (CVN70) departed the Naval Air Station in San Diego, California, embarking on a 7-month deployment.
This week they returned to port.
I had the honor of spending some time on board the Vinson in 2010, as a guest, while they were training in the Pacific. It is an experience I will never forget, and I think of those I know on that ship who serve our nation, and I never forget what they sacrifice on my behalf.
On Dec. 25, I celebrated Christmas with my family. The Vinson was enroute to the Pacific theatre.
On Dec. 30, I rang in the New Year with friends and family. The officers and crew of the Vinson had just arrived in the 7th Fleet area of responsibility.
On Feb. 14, my wife and I celebrated Valentine's Day. The Vinson, thousands of miles from home, worked to defend our nation's interests. (On Feb. 16 the Super Bowl Champion Green Bay Packers flew out to the Vinson to cheer them up a wee bit.)
On Feb. 21, I celebrated my birthday. The Vinson was in the Arabian Sea.
In March, I celebrated two of my kid's birthdays. The heroes on the USS Vinson hit the halfway point of their deployment. Their children celebrated birthdays without them.
In April, I celebrated my wife's birthday. A the same time, thousands of miles away, the crew of the Vinson put their lives on the line dealing with an F/A-18 engine fire that engulfed half of the plane during landing. Their heroic actions prevented a catastrophic explosion.
As April turned to May, I celebrated the wedding of my future king and queen. The officers and crew attended a funeral on their flight deck. For one Osama bin Laden.
In May I took my family to Florida, and spent some time with the Blue Angels working on my next kid's book.  The Vinson was stationed off the coast of the Philippines.
And at the beginning of June, as we all celebrated 100 years of Naval Aviation in St. Louis, the USS Vinson began heading home.
These men and women sacrifice normal life, so that we can have a normal life. They sacrifice time with their family and friends, so we can enjoy time with our family and friends. They put their lives on the line, so we can be secure.
Never forget. Always honor.
Take a moment, and send your own message to the heroes on the Vinson on their Facebook page at http://www.facebook.com/USSVINSON.