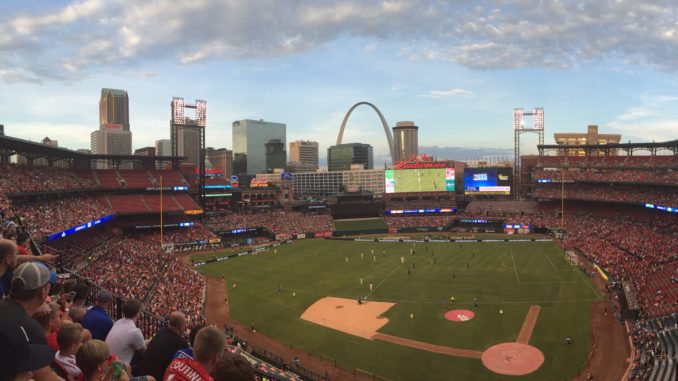 50 years ago, four lads from Liverpool stood in the heart of the US, and performed groundbreaking British creativity to thousands.
It was August 1966. The Vietnam War was taking place. The first U.S. lunar orbiter was circling the moon. And the musical foursome with the trend-setting hair, known as the Beatles, performed 11 songs, including some of their biggest hits: "Yesterday," "I Feel Fine" and "She's a Woman." The venue? Busch Stadium in St. Louis, Missouri, the home of the St. Louis Cardinals baseball team and at the center of the heart of the U.S.
Fast forward 50 years to this August, and there were even more lads from Liverpool performing in St. Louis. Including one who had been here before.
The month started off in a phenomenal way for an expat like myself who is a lifelong Liverpool FC fan. Liverpool took to the pitch in St. Louis' Busch Stadium to take on AS Roma in a pre-season friendly. The fans were rowdy, songs were sung, pints were raised, and the Reds hit the pitch.
I still recall my first Liverpool match. It was at Anfield in January, 1984. It was the third round of the FA Cup, my hero Bruce Grobbelaar was in goal and Newcastle United was taking the field against my Reds. For a nine-year old kid from the south of England, it was an amazing experience. Liverpool trounced Newcastle 4-0, and we even had to run for our lives after the match as a mass of humanity wearing Newcastle kits were tearing after anyone wearing Red following their humiliation.
Twenty-two years later, the results this time were not so good, as Liverpool fell to Roma, 2-1. However the 28,000 fans in attendance, both expats and US-born, certainly had a good time, as did three generations of my family as I was joined by my mum, and two of my children, as we cheered on the Reds. And, I must say, Busch Stadium looked rather good wearing a soccer pitch instead of a baseball diamond.
But then August got even better.
Everyone has a bucket list. Mine is now one item shorter, as Paul McCartney returned to St. Louis and performed once more. And it was a show that didn't disappoint.

Without an opening act, 74-year old Sir Paul hit the stage in Busch Stadium, in front of 41,000 fans, and gave his all for three hours. The weather was perfect, the place was packed with people of all ages, and the music covered Sir Paul's amazing career from his start with the Quarrymen to the hit song he recorded in 2015 with Rihanna and Kanye West, "FourFiveSeconds."
Three hours later, after playing hits such as "A Hard Days Night," "Ob-La-Di," and "Live and Let Die," Sir Paul stepped off stage to huge applause. And most likely to take a well-deserved nap.
And yes, 50 years after the first time its notes rang out in Busch Stadium, Sir Paul repeated "Yesterday."
As one local St. Louis reporter, Kevin Johnson, wrote, "it was a magical night of music … a parade of some of music's most treasured songs hand-delivered by one of the masters … that gave the warm feeling of revisiting longtime friends."
However, it's not just amazing music and sports from the UK that are invading Missouri in this latest invasion; it's expats of all sorts as more than 5,000 current Missourians are UK born and many of them start business or launch the US presence of their UK counterparts here. GKN Aerospace North America, a subsidiary of GKN in Redditch, England, is headquartered here in Missouri, as is the North American wing of AB Mauri Food Inc. whose global headquarters are in Peterborough, England.
The famous Scottish Arms restaurant, headed up by Scottish expat cooking celebrity Ally Nisbet, is one of my favorites. With 100s of varieties of Scotch to choose, Tenants on tap, and great Scottish-inspired food to inhale, it's a wee bit of Scotland in the heart of America. As a side note, in 2015, more than 150,000 viewers took a couple minutes to watch Ally's online Scottish cooking segments, got a wee bit hungry, and hopefully tried their hand at some Scottish deliciousness. You can check it out for yourself at http://www.scotland.org/scottishrecipes.
Then there's Llywelyn's Pubs, all five of them, spread across the St. Louis region, serving up Welsh rarebit, bangers and mash, fish and chips, shepherd's pie and more.
The London Tea Room, run by a family from southern England, is also a must-visit for expats in town for McCartney, Liverpool, or any other reason. With more than 100 loose-leaf tea varieties, accompanied by quiche, sausage rolls and scones, it's a place where the Brits come to feel at home, and the Yanks come to aspire to be British. And the place the local media head to whenever any member of the Royal Family makes the news, has a baby or gets married.
And of course the St. Louis Scottish Games, where every September we get our kilt on and toss some trees. Yes, caber tossing is among the sports that close to 100 athletes compete in. For the rest of us, who might be more gifted with gathering to eat than to compete, there is plenty on hand. Every type of British food, with plenty of Scottish Ale and Laphroig whisky to wash it down, is available. And while we ingest the best, Scottish music ranging from folk to rock to bagpipes fills the field, Scottish dancers compete, sword fighters go at it, sheepdogs round up the main ingredient in haggis, and 5,000+ Americans discover their Scottish heritage.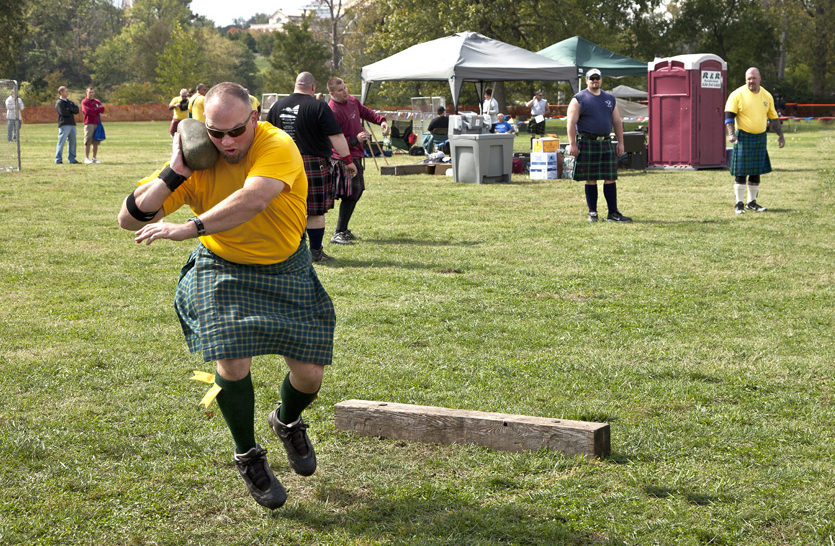 So this British expat has just one thing to say to those back across the Pond about this latest British invasion.
Keep it coming. Missouri is loving it. And so am I.
—
Mark Sutherland is a British expat living in Missouri, USA. You can follow him on Twitter at @MarkISutherland.